I love a good day trip! Living near Philadelphia there is always the option to explore many interesting places within less than two hours of my home. From Amish Country to the Poconos to the Jersey Shore, all are just a short drive away!
Last week my two younger children were off having an adventure at their Grandparents leaving me with some much needed one-on-one time with my oldest. If you follow my blog, you know my oldest son Bobby has an intellectual disability along with other special needs. He too loves a good road trip and exploring new places, so we packed a lunch, and headed to New Jersey to check out Tuckerton Seaport.
Tuckerton Seaport, located in Tuckerton, NJ is a 40-acre site made up of historic and recreated buildings, hands-on learning and historic exhibits, nature trails, and much more. They have regularly hosted demonstrations and artisan events, a calendar of which is located on their website.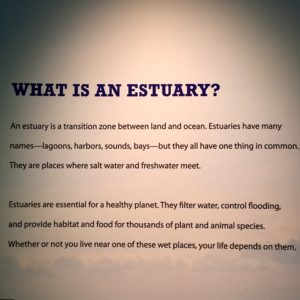 The main entrance brings you into a reception area and the gift shop. Guests can then head upstairs to the "Life on the Edge" exhibit and Jacques Cousteau National Estuarine Research Reserve. The first stop is a four-minute movie to teach you about the estuaries, a term I hadn't thought much about since an environmental science class I took in college 20 years ago. The short video was a great reminder about how important the estuary system is to our environment.
From there, the room is filled with wonderful interactive exhibits ready for hands-on learning about the animals and ecosystem. Bobby wasn't that into it, but I was! Some of the features included a close up look at the organisms inside a drop of water and another that taught you how to guess the age of a fish! I plan to bring my daughter back to check it out. She loves science and animals, so this will be a great place for her to visit!
We took the elevator down and headed for the bottom floor where there were more hands-on learning activities including a children's craft area and a chance to see some of the animals that live in the bay in an aquarium. We took a look around, colored a picture of a chicken, and then headed outside.
A boardwalk takes you around the seaport area. My son enjoyed watching the ducks and geese in the water, and then was happy to see the petting zoo area with a goat and a sheep. We stopped and said hello to the animals and then continued to mosey on our way to the lighthouse.
The lighthouse building is home to the Baymen Maritime Museum. Bobby pulled me quickly through the exhibits, so I didn't get a chance to take in all the history. (Another reason to go back!) But I was able to read a few of the signs and was amazed at how much this little seaport had been a part of American history. For example, Tucker Island was home to the first resort on the Jersey shore! Who knew?!
The two levels of the museum are accessible with an elevator, but to get to the top, you have to climb some stairs. Bobby is capable of climbing stairs, although the metal spiral staircase used for the final ascent to the top did confuse him a bit at first, but he figured it out.
And then my boy was in heaven. Bobby loves a lot of things, but at the top of the list are sunshine, water and wind! There was a blue sky, nice breeze, and perfect view of the water. He was in heaven! We did a few laps around the lookout and then carefully made our way back down.
We went to the car and grabbed our food and sat at the picnic tables to enjoy lunch al fresco. I later asked the ladies in the gift shop if food would be available during the summer months, and confirmed that a restaurant is coming soon to the property. But for now, pack your lunch, or plan to head to one of the restaurants around the town of Tuckerton.
Before we left, I asked about a few upcoming events that looked interesting. On May 6th is TRUCKerton Food Truck and Brew Fest where attendees can expect food and fun from over a dozen food trucks from all over the East Coast, as well as craft beers and live music. I'm thinking of taking my daughter back then because we both love a good food festival! Plus, she'll have the chance to learn about the estuary too. Gotta love when you can combine a little education with delicious food!
Also coming up is the Seafood and Music festival on June 24th and 25th. This sounds like a lot of fun because live music and good seafood are two of my favorite things! I'm told there will be fresh clams, crabs, scallops and shrimp from the finest local seafood purveyors, and it also will feature local craft beers. Hmm, sounds like another good time for a family day trip!
After chatting with the ladies in the gift shop, Bobby and I headed home. I was impressed! Tuckerton Seaport does a great job of finding fun ways to get kids involved in learning. I'm looking forward to going back for another visit soon!
This is a sponsored post brought to you by Real Mom Media. The opinions are completely my own based on my personal experience.