If you're like me, the conversation with your kids after school goes like this:
Me: Hey honey! How was your day?
Katie: Good.
Me: Great! What did you do today?
Katie: We did (insert any school activity here).
Me: Oh that sounds interesting. Did you enjoy it?
Katie: Sure.
Me: Oh, okay. Anything else exciting happen today?
Katie: No.
Sound familiar, or does this just happen in my house?
What I've found is that as my daughter has gotten older, our conversations have become really bland and boring. There were days when they were filled with imagination and wonder, but now, it's a standard script that rarely changes.
That's why I was excited to try TiffinTalk with her. I don't volunteer for every blogger promotional opportunity presented to me because I'm not going to promote a product I'm not going to use. (Hey, I've made my reputation on keeping it real. I'm not going to jeopardize that for some free swag!)
But TiffinTalk intrigued me. I loved the idea of a daily question card I could use with my daughter to open up a dialogue and get her talking about more than the mundane.
I expected that I would find the system impressive. What I didn't expect, was how much she would love it too!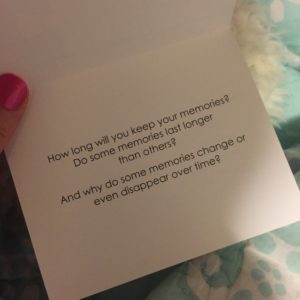 We've had some rocky moments over the last couple weeks. (I haven't blogged about them, but did talk about it on a podcast episode.) And even on the night when the stuff really hit the fan, she was quick to ask if we would still do her card. And we did, and had a great conversation because of it.
The premise is simple, and to me, the questions seem random. But they aren't. They get your child thinking in a way that don't usually think. They get them talking about things beyond what they did or how they did it. They open up a dialogue about things you probably wouldn't have talked about without the card.
For my daughter and I, the TiffinTalk box has now become part of our evening routine. We sit together on her bed, pick out the day's card, and talk about the questions on it. It's a great way to end the day!
This is a sponsored post brought to you by Real Mom Media. The opinions are completely my own based on my personal experience.